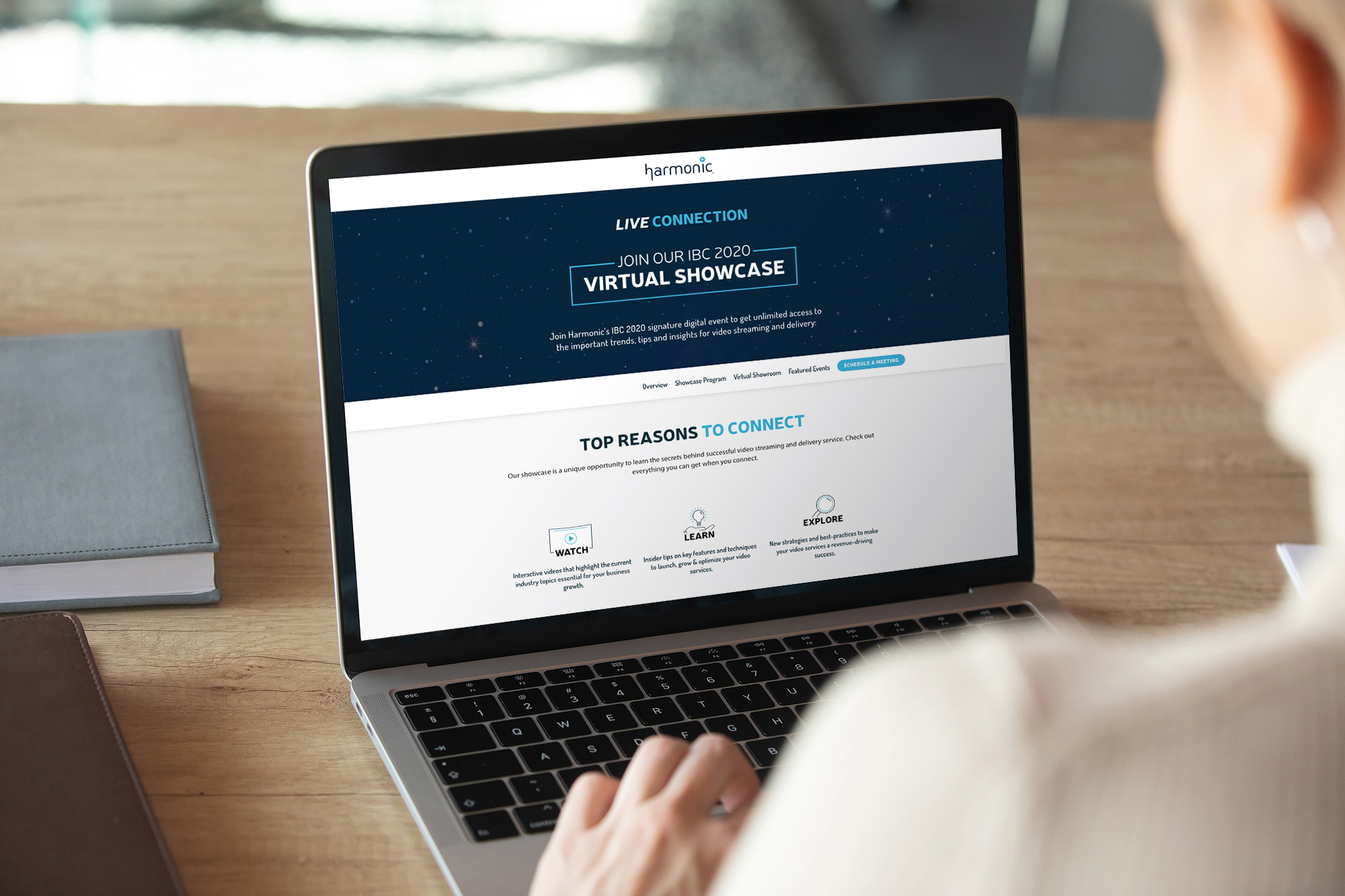 IBC 2020: Three Reasons to Attend the Virtual Showcase
The signature digital event hosted by Harmonic.
September 02, 2020 | 2-Minute Read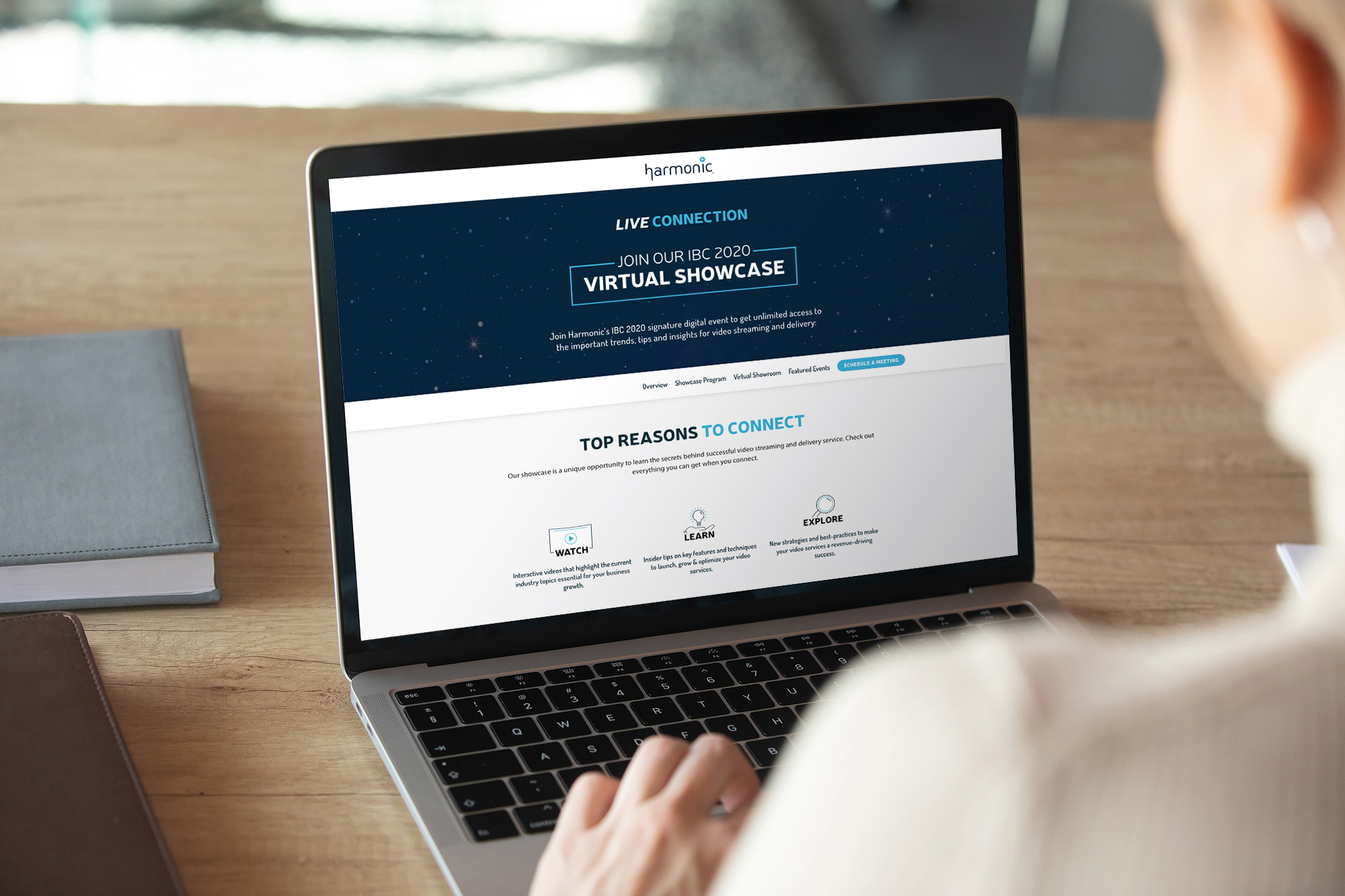 Get ready for the IBC 2020 Edition of Live Connection. It's a signature digital event hosted by Harmonic. This edition will bring the excitement of the IBC show experience right to you with a virtual showcase. It includes a series of thought-provoking webinars hosted by industry-leading experts. The webinar series starts with a live webinar on "New Strategies to Enhance the OTT Live Sports Experience". Over the course of six weeks, Harmonic experts will continue to deliver the details on a variety of essential industry topics, with tips on how to perfect live video streaming and broadcast delivery from source to screen.
The virtual showroom will allow you to explore the latest features and innovations for video streaming and delivery, with access to a range of exclusive demos of Harmonic's VOS®360 Live Streaming Platform, VOS360 Channel Origination Platform, VOS Cloud-Native Software and XOS Advanced Media Processors. You can pre-register here. The Live Connection virtual showcase is a unique event with multiple interactive digital experiences. Here are a few reasons why you'll want to attend.


1. Watch and engage to get essential industry insights
Over the last few months, more people are streaming video, watching the news on TV, while live sports events were temporarily put on pause. Now more than ever, you need to prepare your video business to adapt to accelerating market changes. The IBC 2020 Edition of the Live Connection virtual showcase will provide you with the information you need to best address rapidly changing market demand.


2. Learn insider strategies to keep your competitive edge
The webinars will offer an inside look at new and important channel origination and playout capabilities, as well as innovative solutions for satellite or cloud distribution. The series will also help you understand the momentum behind adopting hybrid streaming and broadcast solutions. Our customers will also present and share how they're embracing the cloud to stay competitive, meet demands, ensure service continuity and future-proof their video streaming and delivery infrastructures.


3. Explore solutions to enhance your business outcomes
Many content providers, video service providers and broadcasters today are looking to boost revenue and enhance the delivery of their services. The webinars in this edition will reveal the secrets to streamlining operations and optimizing video delivery. You'll see how data and analytics can enable you to personalize content, best leverage dynamic ad insertion, and customize your channels to help reduce churn. Understanding the options available today will help guide the important business decisions you may need to make.


Check out some of the Live Connection IBC 2020 Edition webinar topics
How to ensure high-quality, reliable live sports streaming services
Why combine satellite or cloud distribution with advanced edge processing
How on-prem encoding and origin in the cloud can simplify your video delivery
Ways to optimize OTT video delivery to improve quality of experience using analytics
How to personalize television with advanced channel origination features
Save your seat now
Harmonic's virtual showcase aims to reunite our global community of video industry players. The virtual showroom and every webinar in the IBC 2020 Live Connection series are packed with essential, thought-provoking and practical information you can start using right away. Join us to experience engaging content, get deep insights into current industry trends and cutting-edge technical expertise related to advanced video delivery innovations, including enhancements for live sports streaming, advances to satellite and cloud distribution and optimizing OTT delivery with analytics. We look forward to sharing it with you!
By Alain Pellen | November 2, 2020