Cable operators are at an important crossroads. With the iCCAP or iCMTS in end-of-life and telco competition taking more and more subscriber share from cable operators, there are important decisions to make that will impact operators' network and business for the long term.
This metaphorical crossroad has many operators asking questions: What is the best way to compete without the traditional iCMTS? What can operators do to avoid regrettable spend and accelerate the network transition to the virtual, digital era? What is the future of the existing HFC network? What are the options for fiber?
The questions are relevant and the urgency to act is real. There is a certain level of immediacy when arriving at a crossroads. At some point, it's too late and you've missed your chance. Having the most relevant information about your path – what to expect, how to navigate, where you'll end up – will ensure that your choice makes the most sense. Let's walk you through the drivers for virtual CMTS, the process, and the outcomes of this new phase of network modernization so you can move ahead and get the competitive edge in the race for subscriber share.
Why is it urgent to virtualize the cable broadband network?
Pressure in the cable industry is nothing new. What's unique about today's constraints is their focused intensity. These four key factors are bearing down hard on the CMTS: Unabated consumer demand for broadband, growing threats from competitors, rising energy costs and green requirements, and end-of-life notices from incumbent vendors. The stakes are high, and the pressure is on.
Consumer Demand. Consumers want more of what cable broadband offers. According to a study from OpenVault based on data from a variety of ISPs, U.S. broadband subscribers are shifting away from slower-speed tiers, with the percentage of subs on 1 Gigabit tiers doubling year over year. The percentage of "power" and "super-power" users consuming 1 and 2 Terabits or more per month is also growing fast. Demand is good.

Competitive Threats. There is demand, however there is a challenge. Consumers are being led to believe that other service providers can meet their needs better than cable. A marketing battle is underway between telcos and cable operators and the billboard advantage is with fiber. To compete with cable, telcos had to replace copper with fiber. These expensive deployments have proved resilient. Over the past few years, telcos have frequently outpaced MSOs in quarterly broadband growth rates. Now, even Google Fiber, which had put its expansion across 14 states on hold, is planning to deploy in new markets. Other providers, with access to government subsidies that favor fiber, are also on the move. The competition, both wired and wireless, is not standing still.
Costs and Green Mandates. Inflation has surged globally caused by supply-chain disruptions that remain an unpredictable and complicating factor for operators looking to make important decisions about their broadband network evolution.
Energy costs have also risen steeply amidst global instability. Some European service providers have seen the price of electricity more than double. Soaring costs are incentivizing the search for more energy-efficient infrastructure, and a growing number of governments are now pushing the private sector to reduce industrial carbon footprints. These cost impacts and green trends put the legacy iCMTS and HFC footprint in the proverbial hot seat.
End of Life and Support. While incumbent iCMTS infrastructure has become increasingly costly to power, vendors have also signaled that their products are approaching end of life (EOL). It's no longer just one vendor's node. Less frequent iCMTS software updates and explicit EOL and end-of-support notifications regarding line cards, supervisor cards, and related HFC equipment – it all amounts to a wake-up call. You can keep going straight ahead with your existing infrastructure, but that road is going nowhere.

iCMTS vs. vCMTS: What are the drivers for virtualization?
If the expiration date on iCMTS gear – or any of those other constraints – has you looking for an exit, fiber is one alternative. Passive optical networking (PON) has many benefits, and the marketing resonates with consumers.
However, there are multiple approaches to deploy fiber for cable operators. Unless you have deep pockets, government funding, and the years you need to build and turn up an entire new network, the business case for overbuilding and large-scale fiber deployments is hard to make. By the time operators overbuild, telcos may have taken too many subscribers to stay competitive.
There is a faster more economical way, and that path that leads to success is virtualization. A Dell'Oro Group survey in the first quarter of last year, sampled 50 cable operators from around the world. The survey found that 100% of respondents confirmed that they have either deployed or are planning to deploy a vCMTS architecture in their networks within the next 24 months.
There is only one virtualized solution on the market that works as a single platform for DOCSIS and fiber for 10G PON service.
With the right virtualized broadband platform, you can enable strategic deployment of next-gen PON capabilities (10G XGS or 10G EPON) using your existing HFC network.
That's something your iCMTS cannot do. Let's compare the hardware-based and virtualized approaches regarding deployment, capacity and performance, operations, monitoring, maintenance, and costs.
Deployment. Deploying an iCMTS (or dozens of them) is always a big project. Upgrades are expensive and time-consuming too.
A virtual platform, by contrast, features out-of-the-box simplicity – the "boxes" being the latest family of COTS servers, deployment-ready with vCMTS software pre-installed. The software is built upon cloud-native Kubernetes (k8s) container orchestration, which enables deployment automation and ongoing lifecycle management. With a familiar command line interface (CLI) front end, vCMTS deployment requires no knowledge of cloud automation tools, so you can accelerate your deployment and upgrade cycles to mere weeks.
Capacity and Performance. Any EOL-designated product, by definition, has limited potential. For an iCMTS, that means no roadmap, no more DOCSIS upgrades, no 10G fiber capability. The iCMTS can support only two OFDM downstream channels.
A vCMTS, by contrast, has a much higher density and capacity than an iCMTS. With vCMTS you can deliver multi-gig speeds to more service groups using DOCSIS 3.1. There is only one vCMTS on the market that can take it a step further today and deliver DOCSIS 4.0 speeds with DOCSIS 3.1 technology. The CableOS® Broadband Platform's vCMTS with DOCSIS 3.1 enables high gigabit-plus symmetric speeds. With the CableOS Platform and DOCSIS 3.1 you can support six OFDM channels to get fiber-like speeds over your HFC network with zero overbuilding.
Operations. Standard operating procedures for legacy iCMTS infrastructure are well-established, and the same personnel who have been running your legacy boxes can take on a new virtual platform with confidence. The CableOS vCMTS core, for example, seamlessly connects to your existing back-office and current cable modem footprint. The virtual CMTS from Harmonic for example is third-party friendly and can operate alongside existing equipment to increase efficiency and using a much greener footprint than the legacy iCMTS. Overall, the CLI and SNMP capabilities of the CableOS vCMTS provide operational familiarity that eases the migration to a virtualized architecture.
Monitoring. On existing iCMTS equipment, monitoring is typically a matter of SNMP polling. Polling is a legacy technique that gathers individual data points from the devices at set time intervals. Given the dynamic nature of an HFC network and the slow pace of SNMP polling, which can be as infrequent as every 30 minutes, reliance on SNMP has resulted in limited visibility. The vCMTS, on the other hand, introduces network telemetry, which uses push-based mechanisms to continuously stream data from devices. The upshot is much more data in much less time. Yet, it's not just about getting a constant flow of a lot of data.
There are unique solutions on the market that simplify the work of analyzing and interpreting the information gathered from the network, in real-time. Harmonic's CableOS Central cloud-based applications provide unprecedented visibility into real-time network performance. AI-based insights and analytics, with the possibility for automation, drives faster problem resolution, reduced truck rolls, and improved overall customer satisfaction.
With streaming telemetry and automation, we've entered a new era of optimized network operations.
Maintenance. Software updates on iCMTS platforms traditionally happened only a few times a year, if that. With EOL fast approaching, that cadence has slowed, and will cease. In terms of hardware, major upgrades of the chassis occurred maybe once every five years. These hardware upgrade cycles have also ceased.
With a cloud-native vCMTS, built on containerized microservices, updates are continuous, and with minimal impact to operations. This enables dynamically orchestrated changes without needing to upgrade the entire system, and with minimal maintenance windows.
From a hardware perspective, vCMTS servers are refreshed every few years, reflecting the latest generation of CPUs, with all attendant efficiencies for speed, density, and performance optimization. As a rule, virtualized infrastructure requires less cabling, has a higher uptime, and is easier to maintain than its legacy counterpart. New server solutions provide capacity increases without increasing power usage, leading to increasingly efficient infrastructure with reduced costs.
Costs. Proprietary iCMTS hardware is more costly than the COTS servers used in vCMTS solutions. The iCMTS is power-intensive and runs hot, requiring considerable energy for operations and cooling. iCMTS hardware also requires extensive analog optical transmitters and receivers. With no green feature set, iCMTS is unable to meet existing regulations mandating energy-efficient powering and has no chance to offer any kind of sustainability in the future.
The vCMTS, by contrast, uses much less space and real estate. It also allows for replacing space- and power-hungry analog optics with new, efficient digital optics, further reducing space and power requirements. In some cases, it's been reported that moving to vCMTS has led to a 20:1 rack-reduction ratio. The power savings are just as impressive. Operators deploying vCMTS have reduced electricity costs by 40 percent, and potentially by as much as 70 percent with further DAA migration to Remote PHY.
How to migrate to virtualized CMTS?
Cost is a key driver and a differentiator. There is a palpable urgency to lower costs from a hardware standpoint, and in relation to real estate, power, and operations. The financial argument for vCMTS is often decisive. Total cost of ownership (TCO) analysis can take the discussion beyond CapEx to include other related expenses, including power, SLAs, as well as intangible and opportunity costs.
In terms of deployment, some operators start slow. They deploy vCMTS in areas where they need it most, and progressively migrate other sites. Once your teams start to recognize the economic, operational, and overall network performance improvements, the vCMTS will advocate for itself. Stick with your legacy iCMTS for too long, and you may find yourself in a dead end.
Are all vCMTS equal?
Cloud-native virtual CMTS has specific advantages. Although some vendors claim to offer virtual CMTS products, in most cases those solutions are not truly cloud-native. They have simply ported a few functions from the CMTS to software. Only when the software is based on a cloud-native software architecture can you eliminate the challenges of a hardware-based infrastructure and benefit from the dynamic orchestration, capabilities for automation, and the true benefits of virtualized solutions
What is cloud-native and is it important?
A cloud-native solution enables the use of containerized microservices. These are single-purpose applications that are not dependent on hardware. Most importantly, they can scale and function independently of each other. Cloud-native does not necessarily mean that applications are running in the cloud, but instead, it refers to software containers that are elastically deployed on COTS servers. That makes them more reliable, easier to deploy, and safer to upgrade.
What are the risks of deploying virtual CMTS?
Software can handle the load: When Harmonic first introduced the vCMTS to the market, many were wary of a software-based CMTS solution's capability to offer even the same level of service quality as the legacy big iron. Today, those questions seem dated. The relevancy of virtualization is no longer questioned. vCMTS is now not only widely accepted but also the industry's preferred path forward.
Vendor lock in: Operators value multi-vendor solutions and are looking to avoid vendor lock-in. The CableOS Platform for example integrates with multiple third-party devices, switches, nodes and deploys on COTS servers.
DAA & optionality: There are several advantages for operators to couple vCMTS with DAA. A platform like CableOS offers compatibility with any of the higher split, return-path options and the two flavors of DOCSIS 4.0.
When is a good time to deploy vCMTS?
Do you need to add capacity to your existing iCMTS deployment? Then it would be a good time to migrate to vCMTS.
Another triggering moment could be when you're looking to add new nodes for segmentation or if you are looking at increasing spectrum capacity to existing serving areas. You could assess to cost of those evolutions compared with the cost of a vCMTS migration. Analyzing the move to vCMTS from a Total Cost of Ownership (TCO) standpoint, which takes account of the cost of power and facilities maintenance, will clarify the value of starting the journey to vCMTS. Any spend going forward on iCMTS represents real regrettable spend. Investments that could be better assigned to forward-looking virtualized platforms.
How does the vCMTS scale?
Virtual cable access solutions with vCMTS scale simply and in any dimension. For example, when scaling deployment in a rural area, a cloud-native, virtualized solution offers both exceptional throughput and the ability to add service groups easily, migrating out of small hub-site locations and centralizing the vCMTS in higher-level head ends and hub sites. Deployments in large metro areas can scale for increasing subscriber penetration and traffic and the provision of multi-Gigabit symmetrical services over DOCSIS, and in the case of the CableOS solution, both DOCSIS and fiber.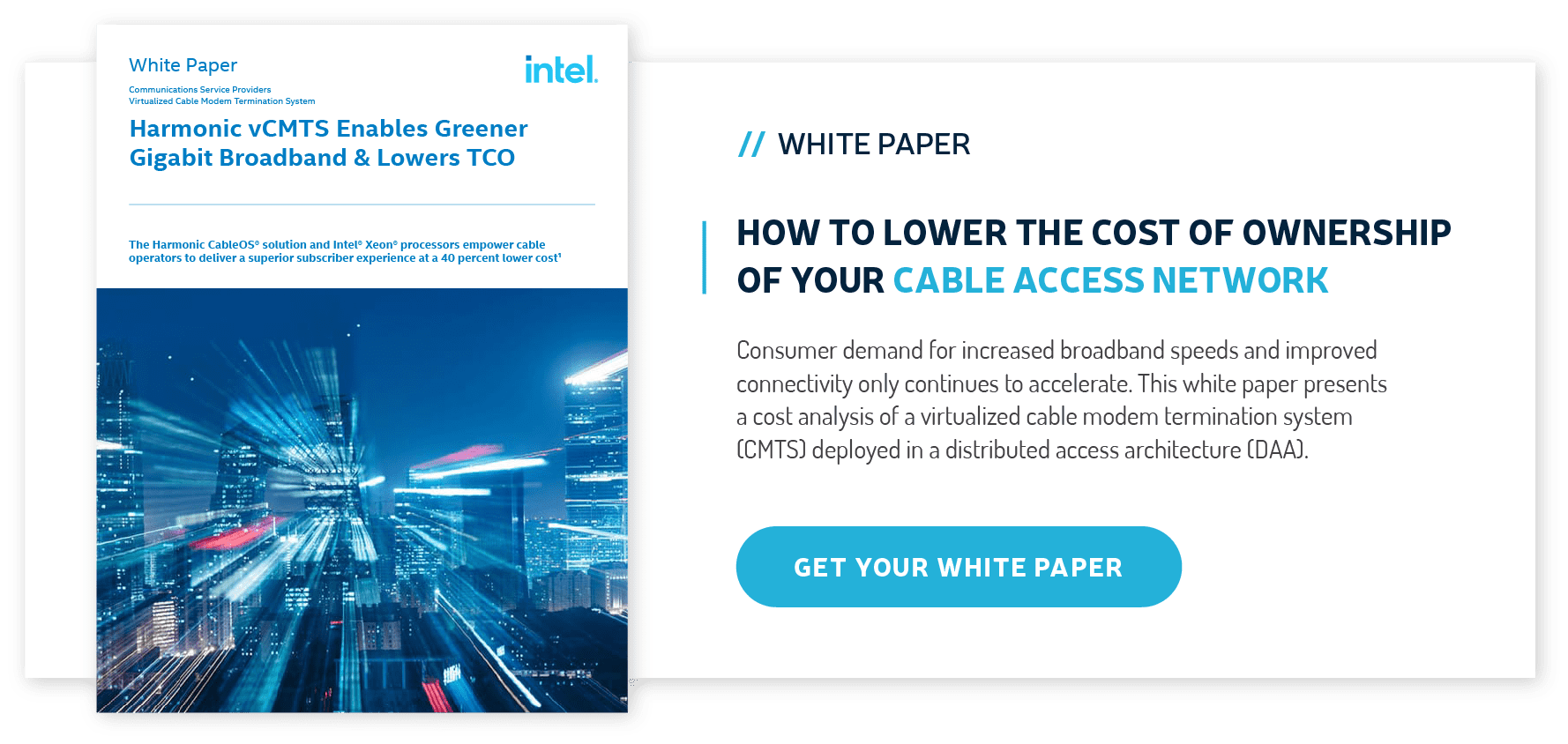 What is the time-to-market for vCMTS?
vCMTS deployment, compared to legacy hardware is significantly faster. Although new to some operators, vCMTS is widely deployed. The CableOS vCMTS currently empowers more than 90 cable operators to benefit from the advantages of vCMTS technology right now, serving tens of millions of subscribers worldwide.
Actual deployment time varies of course depending on the initial network complexity and size of the operators' footprint. Nonetheless vCMTS deployment is measured in weeks, not months.
How does vCMTS work with DAA?
Virtualization and DAA combined can drastically reduce space, power, cooling, and cabling requirements for operators. Many support that the full benefit of virtualization is realized when paired with DAA.
With the CableOS Platform you gain the advantage of using a single platform for multiple architectures and deployment scenarios. The Harmonic CableOS Platform supports different flavors of DAA, including Remote-PHY nodes from various vendors, is DOCSIS 4.0-ready and can enable 10G fiber using existing DAA nodes.
The market-leading solution for vCMTS & DAA
Harmonic's CableOS Platform and Emmy-winning vCMTS technology has been successfully deployed by over 90 operators worldwide, large and small alike. The CableOS Platform is multi-vendor and multi tenancy to give you greater agility and optionality as you modernize your network with virtualization and DAA deployment. The CableOS Platform is also the only solution to offer both DOCSIS and fiber services over your existing HFC footprint.


Let us know what you think about vCMTS vs iCMTS, or if you have any questions. Harmonic's team of next-generation broadband experts are at your service and look forward to hearing from you.