The U.S. has identified rural broadband as a critical issue requiring robust solutions that can be deployed as soon as possible. Billions of dollars have been earmarked by initiatives such as FCC's Rural Digital Opportunity Fund (RDOF) to connect communities with underdeveloped or no access to a fixed broadband network.
GeoLinks, one of the fastest growing telecom operators in the U.S., saw the possibility to economically connect these communities to the digital highway.
The Power of Partnership: Enabling Gigabit Speeds Without Laying Fiber
GeoLinks teamed up with Harmonic and Globtel, a leading provider of microwave wireless solutions, with a forward-thinking idea: deliver broadband services using wireless radio technology and previously untapped radio spectrum.
Out of that vision, the three companies created GIGA-AIR, the world's first wireless platform that leverages DOCSIS 3.1 for broadband service delivery. Powered by Globtel's AIR Gigaray and Harmonic's industry-leading cOS™ virtualized broadband access platform and Harmonic's Pebble Remote-PHY device (RPD), this groundbreaking solution addresses the critical need for broadband infrastructure in rural communities.
"Rural communities across America need reliable broadband service, and we see an incredible opportunity to help operators, and ultimately consumers" said Skyler Ditchfield, Co-Founder and CEO of GeoLinks.

"GIGA-AIR is a game-changer. It's the first fixed wireless platform enabling gigabit and multi-gigabit fiber-like connectivity at a fraction of the cost of fiber. Operators can cost-effectively and quickly deploy gigabit connectivity in underserved and unserved markets in a way that's never been done before — by taking advantage of previously untapped spectrum."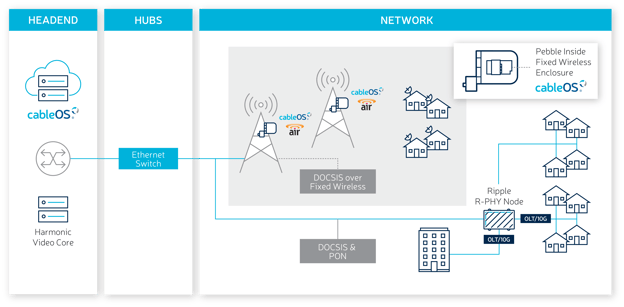 A fixed wireless solution to bring high-speed broadband to every community,
and that can integrate with any existing HFC networks and PON


Prior to this advanced new solution, delivering high-speed broadband services to unserved and underserved markets in the U.S. was challenging. Deploying fiber to areas with a low density of users was expensive. Additionally, successfully implementing gigabit wireless technology in mountainous or heavily wooded areas was difficult due to the terrain.
"Lack of modern broadband connectivity is an important issue in rural areas. Through innovations in fixed wireless access technology, and our partnership with GeoLinks and Globtel, we are helping bridge the digital divide," said Gil Katz, senior vice president, Cable Access Business at Harmonic.


The joint solution from Harmonic, Globtel and GeoLinks resolves accessibility and cost issues and provides unprecedented performance. It's the first fixed wireless radio platform capable of reaching speeds and distances previously unimaginable. The partners collaborated on an innovative design that utilizes untapped, license-exempt spectrum from 69 GHz to 71 GHz, and from 81 GHz to 83 GHz in upstream, for broadband service delivery in rural areas. It also enables oxygen absorption, without denigrating the signal, ensuring consistency and reliability.
Globtel's AIR Gigaray solution integrates DOCSIS R-PHY technology directly into the base station sector antenna to eliminate the indoor footprint at the tower site. The solution includes a cOS platform centralized core and supports the deployment of sector antennas throughout the footprint.


The core and the sector antennas do not need to be at close proximity, making it a simple solution for any access network, including cable, fiber, DSL, and wireless. In addition, the solution offers seamless integration into existing billing and operations systems and cable modems. This feature not only reduces costs for cable operators, but it also eliminates the need to retrain staff.
Offering a 360-degree fixed wireless coverage area, the solution can achieve at minimum 14 Gbps of total throughput and maximum 40 Gbps, depending on the number of integrated R-PHY units, at a base station location and up to 2 Gbps per single customer. The system supports DOCSIS 3.0 and 3.1 transmission technologies, enabling operators to achieve a total supported bandwidth of 500 MHz per sector in each direction.


The fixed wireless solution provides gigabit connectivity to subscribers on a point-to-multipoint basis. The solution is especially valuable in locations with underdeveloped infrastructures, enabling rapid deployment and wide coverage area.
Wireless internet service providers, cable and telecom operators can now deliver broadband speeds comparable to, and sometimes even faster than, existing fixed line networks.
Rapid Scaling to Handle Traffic & Reduce Bandwidth Bottlenecks
Fixed wireless broadband solutions bring operators the opportunity to resolve network performance issues and provide a superior quality of service to subscribers in rural areas. A fixed wireless solution like GIGA-AIR, powered by the virtualized cOS Platform enables:
Rapid bandwidth scaling for operators to swiftly and economically address the demand for faster internet speeds.
The flexibility essential for next-generation broadband service delivery.
Greener, more efficient broadband solutions that enhance network performance.
Connecting Rural Communities
Leveraging wireless networks, DOCSIS 3.1, and R-PHY technologies, operators can reach previously unconnected subscribers with cost-effective, reliable and high-bandwidth internet services.
"Technology partnerships breed innovation, and we're proud of pioneering this new solution with GeoLinks and Harmonic," said Pavle Mikuz, vice president of sales at Globtel. "With GIGA-AIR, operators can rapidly roll out broadband connectivity to underserved areas, pay as they grow and achieve fast ROI."


You can provide high-speed broadband access services to rural communities and we're here to accompany you on your path to next-gen broadband. Contact us today to ask any questions about fixed wireless access solutions, the rural digital opportunity fund, or for additional information on other related topics.