Virtualized PON enables cable operators to meet the high demand for speed, reliability, and quality of experience. Explore the transformative approaches to sustainably evolve your network, improve the total cost of ownership, and generate economic benefits with virtualized PON.


Broadband Expansion and Evolution Is Essential
Greater Demand for Connectivity for Working From Home
The need for digital connectivity in urban and rural areas is driving broadband evolution. Consumers and businesses around the world are demanding more bandwidth and faster, more reliable broadband services, as the adoption of digital-first business models and lifestyles increases.
US broadband providers added 5.5 million new customers in the past year, building on the momentum that was already present in the market and has been maintained, according to figures from Kagan, part of S&P Global Market Intelligence.
It is also notable that the number of high-speed fiber internet subscriptions also overtook copper DSL connections across all 38 member countries in the OECD, according to the organization's most recent broadband statistics update. The number of high-speed fiber subscriptions grew by 14%, so now account for 30% of fixed broadband subscriptions in those countries.


The increase in working from home (WFH) seen in many markets during the pandemic accelerated trends towards higher bandwidth and speed requirements for businesses and home broadband customers. Even as more workers return to workplaces, many are likely to keep the WFH model. A trend is emerging where people are moving out of commuter belts to more rural areas, as they no longer need to travel to work every day. These shifts will also increase demand for better connectivity in rural locations.

Accelerated Software Adoption & Digitization
Another impact of the WFH model for broadband business customers is the movement of software functionality, business-critical data, enterprise systems, and tools like collaboration software onto cloud-based systems. This also drives demand for greater connectivity and requires more robust network performance.
Overall, most markets and industry sectors are seeing more full or partial digitization of products and services. Research from McKinsey suggests the average share of products and/or services that are partially or fully digitized increased from 35% to 55% worldwide, including increases of 33% to 54% in Asia; 34% to 50% in Europe; and 41% to 60% in North America.
The same research also shows big increases in the share of customer interactions that are digital during the same period: from 36% to 58% worldwide, including increases of 32% to 53% in Asia; 32% to 55% in Europe; and 41% to 65% in North America.
Increased Online Streaming & Bandwidth Requirements
Outside of the business space, everyday consumers are embracing and demanding high-quality online streaming and other entertainment services. The value of the global video streaming market is now expected to grow at a compound annual growth rate (CAGR) of 21% between 2021 and 2028, when the market will be worth US $223.98 billion, according to Grand View Research. New applications for virtual and augmented reality, smart cities, and other industry applications that will demand bandwidth usage are on the horizon. It's clear that upstream and downstream connectivity will only grow.
In the US, projections based on analysis by the Fiber Broadband Association's Technology Committee suggest that minimum peak bandwidth requirements for a household of four people will grow from 131/73 Mbps in 2021 to 2,141/2,044 Mbps in 2030 as increasing numbers of workers and students require online access to augmented and virtual reality experiences alongside other bandwidth-hungry services.
The Next Phase of Broadband Development
Together, these trends are driving the next phase in broadband developments, with the enhancement of telecommunications and fiber networks. Existing networks have proved reasonably effective in handling increased demands in recent years, but will clearly need to be augmented, adapted, or replaced as the scale and variety of demands continue to grow during the next decade.
Operators using fiber and deploying (or contemplating deploying) Passive Optical Networks (PON) to extend network capabilities need to find a way to boost the capacity and efficiency of their networks, scaling up and trying to future-proof those networks as they mark out a development path towards 10G. Yet they must do this while absorbing the financial strains of working in highly innovative and competitive markets – and must do so in an environmentally sustainable way.
What's at Stake for Operators on the Path to 10G
Sustainability is a key focus for operators on the path to 10G. Greener, more efficient systems that offer less space and power-hungry solutions are essential for broadband businesses to evolve and thrive – for hard-nosed cost reasons, but also to help meet self-imposed or legal/regulatory obligations for environmental sustainability.
Low-efficiency legacy, purpose-built hardware-based architectures carry high ongoing financial and environmental maintenance and operational costs. They also restrict an operator's ability to scale and enhance the capabilities of their network. The move towards more open software-based solutions is an important step to enable long-term business growth, at scale.
Providing the future of broadband can be a lucrative endeavor if operators are able to reduce operational and network complexity with high-performance, sustainable solutions. But complex infrastructures and costly buildouts can become a source of financial strain. So, solutions that offer broadband providers greater proactivity and visibility into network performance are major facilitators to simplify operations, to improve quality of experience for subscribers, yet also reduce operational overhead.
When evolving the network or rolling out new services, time to market can be critical. Service velocity and the network capacity to support growth rely on the agility of the systems in place. Choosing the right solution that avoids vendor lock-in, enables faster evolution and offers the flexibility to add services with seamless integration are main points of consideration.


Business Benefits of Virtualized PON Solutions and Cloud-Native Software
Resolve Bottlenecks
The need to meet this long list of requirements for the construction, operation and future extension of networks points towards the potential value of using virtualized PON solutions alongside cloud-native software. Many operators in markets across the world are adding PON services for greenfield deployments and overlaying the technology onto DOCSIS as they transition higher tier subscribers onto PON.
Business Agility & Total Cost of Ownership
A virtualized version of PON (vPON) enables flexible deployment options and enhanced scalability while lowering the total cost of ownership (TCO),with a reduced environmental impact. Taking the virtual route also enables network convergence, bringing further financial and environmental savings with increased operational efficiency.
Virtualization and the use of cloud-native technologies radically reduce the amount of hardware required, thus reducing hardware, power, cooling, and maintenance costs significantly. Meanwhile, using cloud-native technology enables the use of containerized microservices that are not dependent on purpose-built hardware, but run in software containers deployed on off-the-shelf servers (which may or may not actually be located in the cloud). They are easy to test, deploy and upgrade individually, without having to disrupt the whole system.
Deliver Superior Quality of Experience with Edge Cloud Architectures
But while virtualization and use of cloud-native technologies can cut costs and increase efficiency, a cloud infrastructure within a centralized architecture may increase the risk of latency, thus undermining the quality of service and of experience for customers. This can be addressed through the use of Edge Cloud architectures that move the process of data transfer to the provider edge, away from the network core. The combination of vPON and Edge Cloud can be enhanced still further if the solution is also multi-access, with a virtual CMTS running on the same platform.


Advanced Analytics & Telemetry
These architectures can be monitored and managed more easily and effectively if telemetry is used; and this also effectively enables a stronger security posture to protect the network, the operator's systems and its customers' own devices and data.


High Performance & Reliability to Scale & Grow
Increased capacity, capability, uptime, and security offer operators a new way to deliver the experience broadband customers demand. The Cloud-native software architecture provides a base upon which the vPON solution is deployed and can be used to build future services, through extension and adaptation of networks and adoption of emerging technologies as and when needed. More simply put, the Cloud Native architecture is the base. vPON is an application installed on that base, and for some operators, it may be the first application as a starting point for further virtualization or additional services. Other applications can be deployed on that same foundation, as long as it's cloud-native, like Harmonic's CableOS platform.


Operational Benefits of Virtual PON
Virtual and Cloud-Native
A vPON solution deployed on a virtualized multi-access cloud-native infrastructure offers improved operational capabilities including reduced latency, increased reliability, resilience, security, and flexibility.


Improved Operational and Cost-Efficiency
Cost and performance gains come from the transition to virtualized cloud-native architectures and the performance benefits delivered by PON. Operators benefit from improved reliability on COTS hardware that has lower power and cooling requirements. Operational benefits include reduced latency and simplification as well as improved network performance and reliability.


Flexibility and Interoperability
The flexibility and versatility of the virtualized solution enable operators to find the best configurations to achieve operational goals, while a very high level of interoperability between network components such as the vOLT and ONU/ONT helps draw maximum value out of existing network investments. This helps reduce operational costs and avoid vendor lock-in. It enables more flexibility and versatility during strategic or ad hoc network development and/or adaptation when required.


Futureproof to Ease Evolutions
Virtualized, cloud-native architecture offers the ability to perform software upgrades and freedom from purpose-built hardware. You get a future-proof foundation for flexible extension and redesign of networks, which provides a smooth path towards the adoption of other emerging technologies at the multi-access provider edge, including 10G.


Advanced Telemetry
AI-based telemetry enables swift identification and rectification of network problems and facilitates more advanced and effective network management capabilities.


Straightforward Maintenance
A cloud-native, virtualized environment offers easy upgrades and considerable operational benefits to enable greater proactivity when coupled with cloud-based services and AI-driven telemetry.


Improved Environmental Performance
The switch to a virtualized, cloud-native infrastructure delivers huge reductions in ongoing energy use and carbon emissions compared to legacy hardware-based networks.


A Cloud-Native, Virtualized, Multi-Access Solution for vPON and Fiber
Harmonic's CableOS is a multi-access virtualized solution, which can be used for HFC DOCSIS, Fixed Wireless Access and PON/fiber networks. The CableOS platform, alongside a vPON (virtual PON) solution, uses a virtual OLT (vOLT) application, a virtual Broadband Network Gateway (vBNG) and a virtual Broadband Provisioning Application (vBPA) to enable zero-touch provisioning. The CableOS cloud-native platform also runs Harmonic's virtual CMTS (vCMTS) application, creating a true multi-access platform.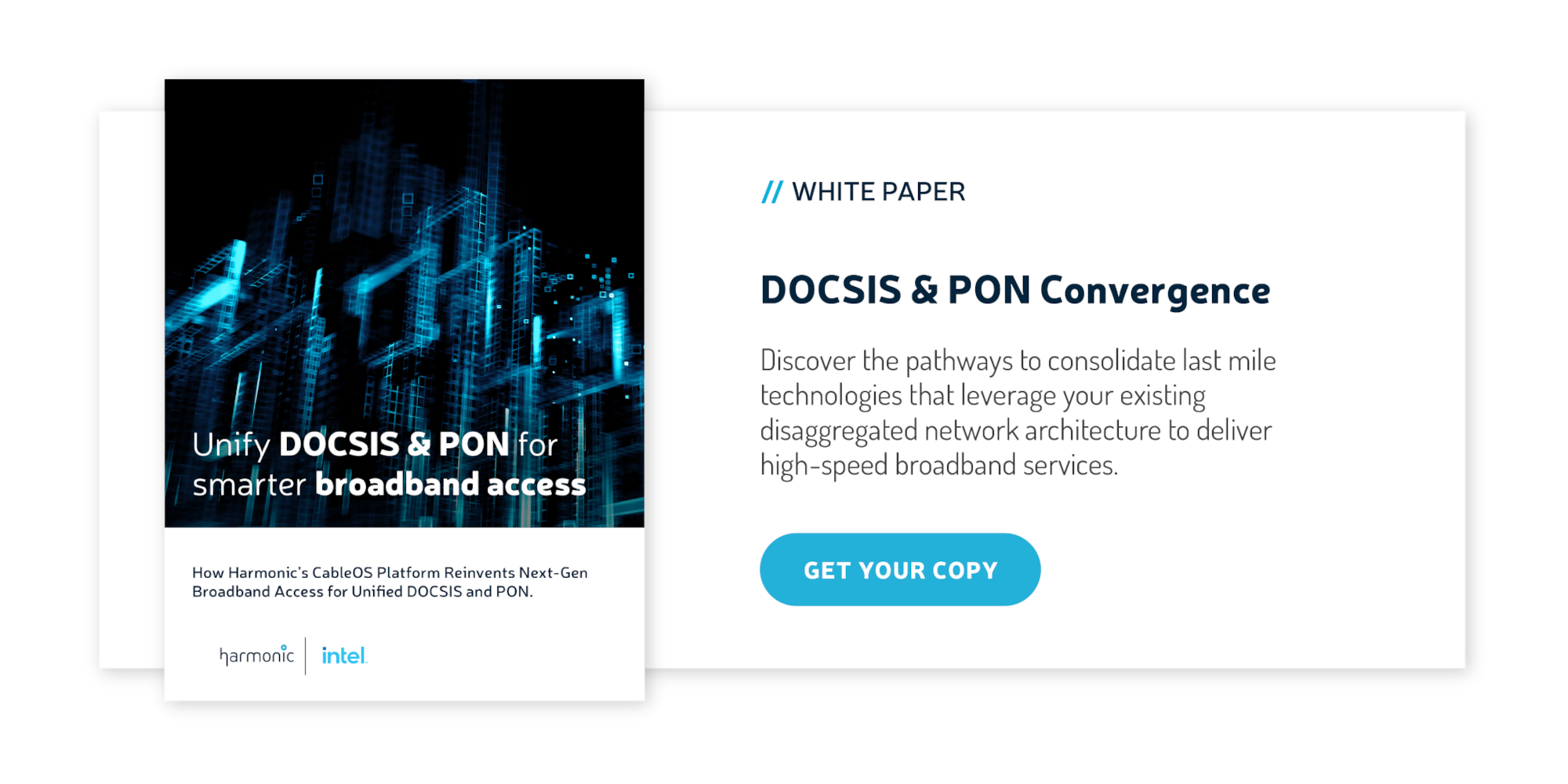 Using CableOS delivers significant OPEX and CAPEX savings within the network infrastructure. The platform can also be integrated with a wide range of network technologies provided by other vendors; and management of legacy network pillars can be consolidated in a single virtual, multi-access solution. The use of cloud-native, edge cloud architectures reduces latency issues by moving applications to the edge of the network and offers highly cost-effective performance in comparison to the data and bandwidth capabilities of legacy, centralized network technologies.
Harmonic's approach also enables operators to draw maximum value out of existing network investments. In part this is because it offers a very high degree of interoperability: its vPON solution can work with ONU/ONTs supplied by multiple vendors, in contrast to some PON vendors who insist their solution is only used alongside their on-premises equipment. The solution can also be used within both centralized and distributed architectures.
The CableOS platform incorporates advanced telemetry, offering operators "another level of visibility" over networks, to quote a major North American customer. A cloud-based telemetry dashboard provides a complete picture of network performance in a single location.
This increases reliability, resiliency, and security, allowing much faster and easier identification and resolution of problems such as bottlenecks; and increased protection for operations if networks are affected by major external factors such as extreme weather events.


A New Approach for PON and Fiber
In developing a multi-access, virtualized solution for PON and fiber operators, Harmonic has created a way to use PON with an edge-cloud-enabled infrastructure. This allows Service Providers to deploy only as needed in record time, from a single PON to hundreds all while using existing network infrastructure, back-office systems and best-of-breed components. The solution converges and draws extra value from existing technology investments while offering the ability to scale and adapt networks in the future. You can gain multiple operational, cost, and environmental benefits, from which businesses and consumers will also benefit, in the near and longer-term.


This is a new kind of network, that's able to meet the ever-changing requirements operators face time and again. A network that's ready to enable a more efficient, continuous evolution, and benefit from emerging market opportunities and technological developments. You can leverage a dynamic and powerful network infrastructure as the basis for delivering superior quality of experience as your broadband business grows profitability. Let us know how we can help you lay the foundation for the future of broadband and 10G.