What's in store for video streaming, VOD, targeted advertising, and everything related to video in 2022? How far has the industry come since 2021? This blog is the first part of a two-part series on video innovations, trends and technology to follow in 2022.
As the streaming industry grows, advances in technology continue to impact service providers, operators, businesses, consumers, and the entire OTT ecosystem. Let's examine the video industry expectations from the previous year to where we stand today and what to expect this year.
Part 1: Last Year's Recap, Where We Are & Where We're Going
Multiview & Watch Together
Our 2021 Prediction
Watch Together and Multiview offerings will soon become commonplace and may become the expected norm. Service providers will want to capitalize on these markets but will need to ensure low latency with well synchronized live experiences in 2021.


2021 Progress
In 2021, Watch Together services emerged in response to COVID-19 constraints. These solutions, however, were developed with non-standardized overlay mechanisms that are managed from the client-side. These mechanisms lack the necessary scalability and require integrations for every new client platform.
Harmonic has introduced a server-side client synchronization solution. You can read the white paper on "Server-Side Client Synchronization for Watch Together Applications using CMAF Low Latency," to learn more.
As an example of Multiview's progress in 2021, a Hong Kong service provider successfully streamed the live finale of a popular reality TV show using multiple camera angles and a cloud-based streaming platform.


What to expect in 2022
Server-based solutions should be available in 2022 as Watch Together offerings scale to more devices. In addition, standardized approaches will make deployment easier for multiple client platforms.
Multiview services are also expected to expand. For example, 5G Multiview has recently been introduced in NFL football stadiums across the U.S., and we anticipate this trend to take off in 2022. This particular service features up to seven live camera angles, replays, and statistics available to event-goers at the stadium, on-site.


Advances & Developments with Super Resolutions
Our 2021 Prediction
Super resolution is the process of upscaling low-resolution video to high-resolution video. It's crucial for maintaining picture clarity and motion consistency when video content is stitched together from variable sources that have different video resolutions, or quality.
With Ultra High Definition (UHD), there may be a need to upgrade SD or HD content to a higher resolution, in order to view the content correctly on a UHD screen. Now more than ever, the conversion capability is critical. Content providers are interested in displaying content on any UHD screen and want to be able to handle SD/HD to UHD conversions with greater simplicity.


2021 Progress
An increasing number of consumer devices like Smart TVs, smartphones, and gaming consoles are being designed with super resolution features. Consumer devices are also evolving to enable super resolution at an accelerated pace, which should boost adoption. You can learn more about super resolutions from this recent white paper "Optimizing UHD Production With Super Resolution Techniques," .


What to expect in 2022
Advances for super resolution features is expected to accelerate in 2022 with more support on the device side. This is complementary to the server-based approach we discussed, where we explained about proprietary solutions that compete for meta data guided client-based super resolution conversion. Standards could help this market expand to avoid blind super resolution conversions.


High-Quality 8K VR For All
Our 2021 Prediction
The potential to extract the most value from 8K VR is enabled by the rapid advancement of 8K production, 5G network roll-out, and high-quality, low-cost 8K capable Head Mounted Displays (HMD). You may have heard about the release of the Oculus QUEST2.
With these key tech components now ready for the general masses, video service providers have a unique window of opportunity to deliver high-quality and low-cost VR experiences.


2021 Progress
8K VR progress continued in 2021 with the Streaming Video Alliance (SVA) VR Study Group that did a trial of 8K VR. They found a significant difference between 8K VR and 4K VR using a high-resolution capture system with Harmonic content. You can learn more about that story in the recent white paper about"360 8K Viewport-Independent VR".
Major sporting events continue to be an excellent way to foster enhancements for video technology and evolution. An example of this was during the Tokyo'20 Olympics when 4K VR content was streamed to world-wide audiences. This was a significant improvement for the user experience compared to the Rio'16 Olympics.


What to expect in 2022
The Beijing Olympics will be an opportunity to use the latest technology and bring 8K production to the forefront.
Yiannis Exarchos, chief executive officer of Olympic Broadcasting Services (OBS), says in a recent article on live sports streaming, "By the time of Beijing, we will begin to see significant adoption of new ways of consumer experience, including augmented reality, which will be enabled primarily by 5G technology." The goal is to produce an 8K VR product using technology that builds upon previous Olympic achievements.
Also, in 2022, we expect the first 8K viewport-independent services to be deployed in an existing OTT environment.



Interactive Applications to Rely on 5G
Our 2021 Prediction
Telco operators are making deals with cloud providers and content owners to entice audiences with a much more interactive streaming experience. The improvements are largely related to a large investment in edge computing resources.
5G technology will also enable the delivery of new kinds of high-bandwidth content, like immersive applications, VR, personalized broadcasts, and AR.
The improvements offered in 5G technology open new opportunities. Higher bitrates and improved latency for IoT will be transformative for streaming industry players, audiences, telcos, cloud providers, and content producers. The introduction of 5G will also inevitably trigger brand-new market opportunities.


2021 Progress
The deployment of 5G technology is underway. 5G compatible services and applications are just now starting to make significant progress. 5G equipped sports venues are already partnering with content distributors to provide interactive experiences to viewers with 5G smartphones.
This is a whole new level of sports entertainment where users can virtually move around the arena during an event and navigate different camera angles with a touch of a finger.


What to expect in 2022
Important new versions of 5G, including Standalone Access (SA), will be deployed to improve the latency and responsiveness of the mobile experience. Over the next decade, as 5G deployments become mainstream, a new 5G architecture will evolve to offer cloud-based applications with MEC features that many Mobile Network Operators (MNOs) have invested in.
The 5G mobile experience will expand beyond earlier mobile generation applications, especially as operators widely deploy millimeter Wave 5G. Millimeter waves are sometimes referred to as high band 5G. Initial trials of immersive experiences using new edge processing capabilities will transform into real commercial offers. You can also get more insights on mobile streaming and 5G for live sports here.


Using SMPTE ST2110 To Improve UHD Workflows
Our 2021 Prediction
SMPTE 2110 is a standard to transport audio and video over IP networks. Unlike SDI, which only allows a single transport path to send or receive a single signal, SMPTE 2110 is bidirectional.
SMPTE 2110 uses IP technology for existing industry standards with the benefit of scalability for distributing uncompressed video and audio.
SDI remains the most common form of connectivity, although, ST2110 has quickly gained more traction in recent years. This has been the case for SD/HD production, and we anticipate that this will also include UHD workflows in 2021.


2021 Progress
While SMPTE 2110 is set to eventually replace SDI routing altogether, the transition is underway. For example, NBC Sports upgraded its Stamford facility with an IP-first infrastructure used for live productions of the Tokyo games.


What to expect in 2022
SMPTE 2110 is the latest game-changing solution for video distributors to ensure high-quality video and low latency. Companies will gradually embrace SMPTE 2110 while abandoning SDI as part of a natural, technological progression.
SMPTE 2110 enables the development of highly efficient and flexible media systems. As more companies to move in this direction in 2022 IP-based broadcasting is on the path to become the common-place standard.


Dynamic Ad Insertion (DAI) to Fuel Revenue
Our 2021 Prediction
The merging of OTT and DAI will enable a new era of hyper-targeted advertising, making linear TV's mass-produced commercial breaks pale in comparison. Video service providers are now looking at DAI as a complementary or alternative approach to subscription-only offers.
These new subscription models allow the end-user to choose between watching content with or without ads, based on different subscription prices. The average revenue per user (ARPU) is balanced by both tiers of streaming audiences.
These models for greater personalization and varied pricing structures are projected to grow. We will also see the rise of more low latency services for DAI workflows.

2021 Progress
Content providers have found that using DAI with a Server-Side Ad Insertion (SSAI) model reduces the impact of ad-blocking software. This results in fewer skipped ads, more views, and subsequently, more ad revenue.
With DAI, ads can be dynamically managed on the fly, based on predefined data to best target consumers. As a result, customer engagement increases when ads match relevant themes at the right time. DAI Analytics is maximizing advertising value while providing a less disruptive perception. Roku has reported increased revenues after making strategic advertising implementations which include DAI.


What to expect in 2022
DAI is the perfect tool for advertisers to coordinate campaigns and optimize their messages across multiple platforms. DAI implementation has steadily progressed over recent years, and as DAI deployment accelerates, we expect adoption to reach new levels.
In addition to more service providers continuing to embrace this technology, we believe the pace of traditional service providers will also accelerate this year.
Increase in Context Adaptive Delivery to Support Traffic Surges
Our 2021 Prediction
Context adaptive delivery (CAD) makes the video workflow more dynamic. It balances the context that the video content inherently possesses (the nature of the video content) and the context of the delivery network (the consumption of this content).
This process is much more than just gathering analytics. Context adaptive delivery is a data-driven dynamic adaptive delivery workflow for OTT services to ensure they can support a traffic surge. In 2021, we expected several major worldwide sporting events to which millions of end-users will expect to have seamless and uninterrupted access.


2021 Progress
Several ''CAD-like'' approaches have been announced. Harmonic's future CAD solution will bring a complete toolbox to the table with a holistic view. You can explore CAD approaches in greater detail in this recent white paper on "How to Optimize TCO and QoE in a Cloud Environment Using a Context Adaptive Delivery Solution".
Additional projects to enhance CAD solutions are also underway. CTA wave is a project aimed to improve streamed experiences on consumer devices. CTA is the Consumer Technology Association and their Common Media Client Data (CMCD) standards are now implemented in several open-source players. This should make CAD deployment easier.
What to expect in 2022
There's no doubt that CAD approaches will continue to advance. More AI-based tools will be available as video streaming consumption continues to increase.
On the standardization side, we can expect the CTA Wave effort to build the companion specification to the CMCD called Common Media Server Data (CMSD). The spec would provide the necessary tools to carry context information from the origin to downstream servers to optimize content delivery.
As part of the CAD toolbox, Harmonic offers AI-based encoding improvements and dynamic frame rate encoding and will enrich on the delivery side and provide dynamic management of network elements.


The 2021 Predictions that Surprised Us
Satellite Bandwidth Reclamation of the 3.5 GHz Band
2021 Progress
In the US, satellite distributors started to free-up bandwidth spectrum to make room for 5G in the 3.5 Ghz band range. In some cases, distributors can simply clear satellite traffic from existing transponder channels to available transponder channels.
Other service provides need to reduce transponder space by upgrading compression schemes from MPEG-2 to MPEG-4 or HEVC. Additional plans include ending the use of satellites for distribution by converting to an IP distribution model.


What to expect in 2022
The effort to reclaim spectrum for 5G will continue in 2022. Satellite operators in the U.S. must clear 300 MHz of the C-band spectrum to make room for terrestrial 5G wireless operators by Dec. 5, 2023. To accomplish this, they must relocate services to the upper 200 MHz of the band for their customers.
Harmonic has announced software-based edge solutions to help 5G spectrum accommodations with media processing workflows that are already in deployment at scale.


Video is Streaming Forward
It's important to stay up to date with video innovations in a fast-paced OTT streaming industry. As cloud adoption accelerates and momentum increases for SaaS, now is the time to get ahead of the curve, and set the stage for more video business growth.
Harmonic's advanced, cloud-based video streaming and broadcast solutions offer the agility you need to meet today's video needs with tomorrow's requirements in mind. Let us know how we can work with you to foster your video business success.
PART 2: Key Evolutions for the OTT Streaming Industry to Watch For in 2022
What streaming innovations and implementations are on the horizon this year? Will the focus be on improving the delivery network, on viewer experience, or monetization?
Although the expansion of streaming video platforms and viewership may have been compounded by stay-at-home habits during shelter-in-place mandates, the evolution of streaming will continue for years to come.
Many in the video industry universe have questions about these upcoming advances. What does the future of video streaming look like? How will technology evolve and what are the possible shifts in consumer demand to expect? Will innovation propel VR into mainstream acceptance in 2022?
Let's explore the advancements, trends, and evolutions for OTT streaming to look forward to this year.
What to Expect from the OTT Streaming Industry in 2022
Greater Scalability for Low latency DASH and HLS
A quick review of DASH & HLS
DASH and HLS are the main formats for transmitting video using a Hypertext Transfer Protocol (HTTP) delivery method. Other formats exist, but Dash and HLS are widely supported and responsible for streaming video to consumers' internet-connected devices. DASH is short for Dynamic Adaptive Streaming over HTTP.
DASH is sometimes referred to as MPEG-DASH since it was developed by a combination of companies led by the Moving Picture Experts Group (MPEG). HLS, developed by Apple, is short for HTTP Live Streaming.
Understanding the impact of latency for DASH & HLS
We've been talking about the low latency transmission of DASH and HLS for several years. Traditionally, both DASH and HLS have latencies above 18 seconds. That's the time it takes between video being transmitted and the moment viewers receive it on their screens. Eighteen seconds may not seem exceptionally long. However, when streaming live or interactive events 18 seconds of delay can feel like a lifetime.
Low Latency DASH (LL-DASH) and Low Latency HLS (LL-HLS) can reduce latency to under 5 seconds. They were introduced in 2017 and 2019, respectively, and both methods transmit video data by carving it up into small independent chunks without overlap.
Using LL-DASH and LL-HLS, you can have play out video in near real-time. As soon as the first chunks of video are ready, they are sent to players and devices. Then, as more chunks become available, they are requested and quickly played, resulting in reduced delays.
Enhancing the streaming experience & overcoming scalability obstacles with LL-DASH & LL-HLS
One of the biggest obstacles for LL-DASH and LL-HLS is scalability. In 2022 the Beijing Olympics and the FIFA world cup in Qatar will be streamed to global audiences. This will be a large-scale test to demonstrate the power of LL-DASH and LL-HLS to improve live streaming quality for massive simultaneous audiences world-wide.
Using content delivery networks (CDNs) optimizes LL-DASH and LL-HLS streaming. With a CDN, segments can be cached at the edge. Edge caching simplifies scaling across the delivery network for large numbers of viewers.
If low latency DASH and HLS are so great, then why do we need to optimize the workflow? LL-HLS requires four times more request messages and will need an optimized CDN infrastructure to be successful. Also, video processing workflows are becoming more complex as video processing technology advances and becomes more automated.
To really enhance the user experience and best monetize your content when live streaming at scale you could combine low latency with Dynamic Ad Insertion (DAI), geo-redundancy, and Digital Rights Management (DRM) support.
OTT Streaming Will Continue to Shatter Records
In 2021, Super Bowl LV set a streaming record of 5.7 million average viewers. Likewise, the Tokyo Olympics doubled steaming views from the 2016 Rio Olympics. And in the UK alone, a record 7.1 million viewers streamed the UEFA Euro 2020 soccer tournament using the BBC iPlayer service.
As live events become more popular with streaming audiences, massive spikes in video viewing will put the OTT ecosystem under pressure – especially when exclusive rights are isolated to a single OTT platform.
Multi-CDN is one way to offer a better Quality of Experience (QoE), but we must look further down the road to caching inside ISP networks when ISP peering points create bottlenecks. Open Caching Specification by the Streaming Video Alliance tackles streaming from local caches rather than from peered networks. We expect to see more of this in 2022.
To host ISP network caching and to scale traffic you need a solid cloud infrastructure. We see this being deployed today with the 5G MEC (Mobile Edge Computing), but a different type of MEC (Multi-access Edge Computing) for networks will be needed to perform the CDN function.
More Premium Content Will Be Available on Ad-Supported Platforms
The last several years have seen an explosion in viewership for ad-supported content and platforms. Even in North America, where there is significant fragmentation in content rights and streaming platforms, growth continues unabated. We are now seeing the same growth patterns emerging in Latin American, European, Middle Eastern and Asian markets.
Premium SVOD services like Netflix, Amazon Prime Video and HBO Max attract and retain customers by investing heavily in content rights, but more importantly, through original programming. As ad-supported services have reached critical mass, we are seeing the major AVOD and FAST providers starting to do the same with platforms like Crackle, Roku and Tubi, publishing award-winning content that is drawing viewers in significant numbers.
With ad revenues for ad-supported channels measuring in the billions and expected to double in less than five years, we expect these trends to continue globally. We will see more original content being produced in international markets, and more premium live content, such as professional sports, available exclusively on ad-supported platforms. Additionally, as industry support for personalization technology grows, we will see FAST services adapt their lineups to viewer preferences as they optimize for ad revenues.
Interoperability Will Gain Importance
There are other delivery protocols you can use alongside HLS and DASH, however, there needs to be strong compatibility between the protocols to ensure reliability. The Common Media Application Format (CMAF) can also transfer data through each step of the video delivery process, while maintaining low latency.
CMAF is gaining traction, but legacy TS is still widely used with low latency variations. Successful low latency CMAF implementation requires participation across the streaming ecosystem.
CDNs, players, and encoders would need to support CMAF. The diversity of players (phones, tablets, STBs, smart TVs, game consoles) and standards (native apps, HTML5, open-source, proprietary) requires interoperability to avoid chaos.
We see progress among organizations such as DASH Industry Forum (dealing only with DASH) and CTA Wave. This is a good start, but adding the DRM piece with (CENC using CBCS) and DAI will help make interoperability a reality.
Harmonic has started some work in this direction and will communicate more in 2022 on its "Player Partner Program," already deployed over the last 12 months.
The Metaverse Initiative Will Bring Volumetric Video to The Social Experience
Volumetric video provides a three-dimensional feel when viewed on either flat or 3D display screens. The more immersive video experience is produced through a surrounding array of camera angles instead of a traditional camera setup.
More companies are currently exploring volumetric video. Meta, previously known as Facebook, announced its Metaverse initiative in October 2021.
We expect 2022 to be the first year of volumetric video to co-exists with a social experience. If Apple's long-anticipated VR/AR headset gets released this year, then 2022 should be an exciting year for volumetric video. Consumers will experience how physical and virtual boundaries are able to converge.
By nature, this emerging market will be highly event-based. SaaS platforms are well tailored for event-based applications. SaaS provides proper monetization tools and flexibility for building multiple delivery scenarios with 2D and Volumetric media. This includes both file-based and live delivery.
A Push Towards Green Video Streaming
Compared to traditional broadcasting, video streaming using a unicast model offers tremendous flexibility to personalize the user experience. As we move from one-stream-for-all multicast distribution towards individualized stream distribution, we see losses of energetic efficiency. The rapid growth of video streaming traffic has significantly increased energy expenditures.
In 2022, we expect the streaming industry to migrate toward more eco-friendly transmissions by combining aspects of unicast and multicast models. 5G has defined agile models, and previously started testing which should continue into 2022.
Network bandwidth is of paramount importance, both for user experience but also in terms of network efficiency. Multicast ABR (mABR) is a possible solution to merge attributes of unicast and multicast. It leverages the infrastructure used for unicasting without the capacity needed for full unicast video delivery.
Codecs Will Play a Large Role in Traffic Reduction
Independent multicast or unicast transmissions, codecs will also play a crucial role in future traffic volume reduction. New codecs including AV1 and VVC can enable a bandwidth reduction of 20-50% compared to HEVC.
The best way to optimize legacy codecs today is AI-based compression that can save an added 20-30% compared to legacy implementations like HD AVC or UHD HEVC.
The Cloud Will Allow Easier Expansion to New Technologies
OTT streaming continues to grow in user popularity. The evolution of streaming is propelling advances for encoding and transcoding processes to streamline delivery for nearly any consumer device. Scalability for accommodating fluctuating volumes of video traffic is a necessity for OTT streaming providers.
Using an OTT streaming infrastructure that includes on-premises servers create scalability challenges. On-premises servers need physical space, sufficient computing capacity, maintenance, technically trained staff, and upgradeable hardware to deliver a continuous and high-quality experience for viewers.
Companies are increasingly abandoning on-premises infrastructures in favor of cloud technologies for OTT streaming. The main drivers are:
More flexible resource availability
Minimized physical infrastructure
Increased agility to scale as needed Cloud services
Cloud services support service growth because you eliminate equipment needs and design upgrades. Cloud flexibility makes it easy to customize workflows, add channels as needed, and adapt to different platforms. Services can be scaled up or down as needed by adjusting cloud resources rather than buying physical resources.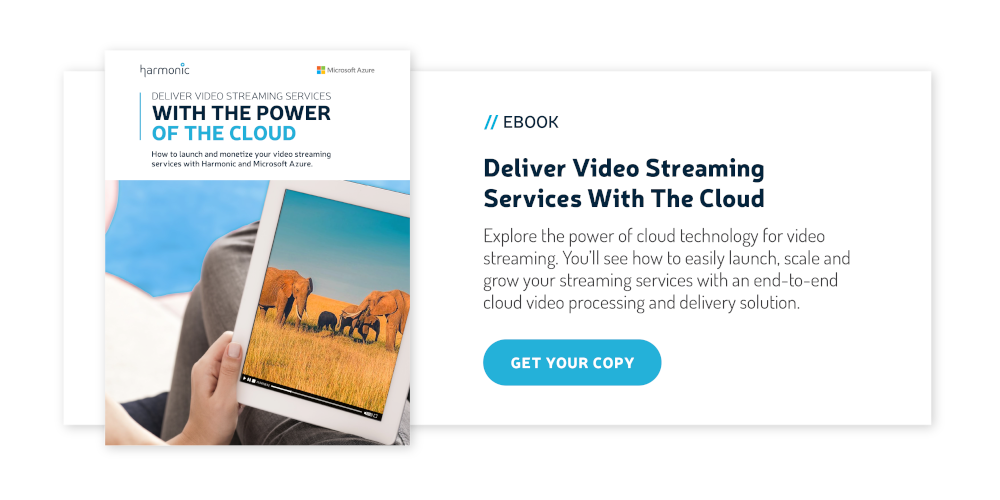 API Connections Will Grow SaaS Offerings
SaaS offerings will continue to grow, and more external services will be connected through APIs. Cloud systems make the expansion to innovative technologies through API connections easy. Realtime Data Collections for data-driven Workflows can be a good complement to the more business oriented data collection made by the usual analytics companies.
Realtime Data Collections for Data-Driven Workflows
Like many industries, data collection and processing are vital to improving workflow efficiency, and user experience. Media processing and OTT delivery workflows are no exception.
Collecting raw CDN logs to handle routing decisions can be complex. New standards are available streamline media delivery. One example is the Consumer Technology Association's (CTA) Common Media Client Data (CMCD) specification.
The CMCD standard gives a well-defined set of information so clients can pass to upper delivery CDN caches with ways to identify unique clients or unique sessions. With that data extracted from CDN logs, media processing and the traffic, in general, can be adjusted in real-time to offer the best "targeted" experience for users.
Data collected in real-time can be used for dynamic CDN load balancing in regions where one CDN is close to its upper limits, or to create dynamic profile ladder to mitigate congestion, or for plain old business analytics.
Conclusion
OTT streaming is evolving. Increased consumer demand for live event streaming is driving better quality of experience. Premium and personalized content on AVOD and FAST channels is growing, as OTT service providers look to optimize ad revenues. Volumetric video is about to make streaming a lot more exciting. The industry is working together to improve interoperability and green streaming. Cloud adoption is accelerating, especially for SaaS platforms. And real-time data is changing the game of targeted streaming.

2022 will continue to show progress in these key areas in the streaming space and Harmonic will take an active role in their development.