If you thought that 4K was still not fully mainstream, you'd be correct. But if this is the case and broadcasters worldwide are still adopting 4K UHD technology, why is there so much buzz about 8K?
Here, we'll discuss the state of the 4K and 8K industries, take a look at the motivating factors for these technologies, where adoption lies, and what solutions broadcasters should consider to stay ahead of the curve.
First, let's take a look at some of the fundamental differences between 4K and 8K.
4K vs 8K: What's the Difference?
In terms of progress, 8K, or UHD-2, seems like the natural evolution of 4K, or UHD-1. However, as we'll outline below, it does have its challenges. Here is a basic overview of the specifications of 4K and 8K as well as a technology:
4K resolution has been specified as 3820 x 2160
The resolution of 8K is double 4K at 7640 x 4320
8K also doubles the frame rate to 120 fps vs. 60 fps for 4K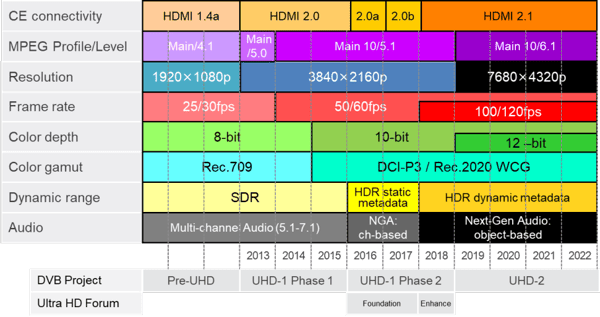 Figure 1. UHD-1 and UHD-2 roadmap (Image credit: UHD4K)
4K technology is still relatively new, having only been around for less than a decade. According to the Ultra HD Forum Service Tracker, the amount of UHD (i.e., 4K) services available -- including on-demand and live -- is shy of 200. The majority of these UHD services, three-quarters, are linear, while the remaining quarter serves VOD customers.
Netflix provided the first 4K stream in 2014, and the first large broadcast event was the Rio Olympics in 2016. Fast forward to today, and the (now postponed) Tokyo Olympics are slated to be broadcast in 8K, and China has expressed interest in broadcasting in 8K in the 2022 Beijing Winter Olympics.
Even with the popularity of major VOD companies and numerous UHD services using 4K, one could argue that it still has not peaked, and the time for 8K mass adoption is still distant. For reference, the United States continues to lack offerings for a 24/7 live UHD service, and broadcasters in Europe and South America remain in the planning stages of offering terrestrial 4K experiences for 2024.
While 8K technology is available, its limited content and costly production pose industry challenges before it becomes mainstream.
Challenges of Producing 8K Content
The mass adoption or investment in 8K technologies for broadcasters is very much a "chicken or the egg" scenario: it does not make a lot of sense, currently, for consumers to purchase 8K televisions when there is not a wealth of 8K content available to consume. Without the proper mediums to deliver 8K content, many broadcasters are waiting for the appropriate time to produce UHD-2 content that consumers can enjoy.
While the 8K Association has been created to promote this adoption, Asia is one of the only regions where this content is available (via satellite to some connected TVs). According to a Mordor Intelligence report titled 8K Market - Growth, Trends, and Forecast (2020 - 2025), Japan is the first to introduce a broadcast channel dedicated to 8K content.
To give an idea of the current requirements to enjoy this experience, Mordor Intelligence mentions that "one will need an 8K TV, a dedicated satellite to receive the transmission, and in some cases a replacement for boosters and distributor boxes."
In neighboring China, the focus is on the consumer product manufacturing side, which is leading to the Asia-Pacific region being forecast to deliver on the fastest growth in the 8K technology market. As such, it may behoove broadcasters in western countries to closely monitor the adoption and rollout of 8K in the Asia-Pacific region to determine the best approach to entering the market.
Perceptual Difference Between 4K and 8K
If consumer adoption is the driver for broadcasters to produce 8K content, a recent test on the impact of 4K vs 8K on perceptibility leaves a lot to be desired. The test results revealed that the increase in resolution from 4K to 8K "did not result in significantly improved visual difference."
However, it should be mentioned that the types of content used in the test did not include broadcast or sports content, leaving more testing to be desired in programs where FPS rates are more important.
Requires Expensive, New Equipment
The logistics of creating content for the owners of 8K TVs require an array of new technology and expanded storage capacity. For one, it's necessary to use advanced recording equipment that can capture 8K video, such as the Red 8K camera that costs over $54,000 a piece.
A white paper by NHK mentions the need for advanced cameras, OB trucks, recorder-players, editing rooms, and the required 8K content production equipment needed to create an efficient workflow.
Related: NHK white paper on 8K cameras
Practical Difficulty of Delivering 8K Content
Typically, 8K requires 48 Gbps, either using 4x12G SDI infrastructure or over IP using ST 2110. 4K (12 Gbps) is still under interoperability testing, and we expect it will take several years before we can see the same with 8K.
But some companies are pushing forward. BT Sport, who was the first operator to deliver 4K in HDR, recently demonstrated an 8K live production workflow. They are also now offering a limited number of 8K EPL matches to connected TVs for upcoming seasons.
Distribution bitrate is also of critical importance in delivering 8K. Today, 8K is delivered via satellite or over IP to connected TVs. Since 8K video has a much higher resolution than 4K video, more bandwidth is required to deliver 8K video streams. However, if your video delivery solutions support HEVC, you can significantly lower your video's bitrate. The bitrate for 8K video services that use HEVC is between 85 Mbps for satellite and 65 Mbps for OTT.
When you implement Content Aware Encoding (CAE) used in combination with HEVC, you can lower the bit rate for 8K distribution by another 50%. CAE leverages the mechanics of the human eye to assess video quality and optimize encoding parameters in real-time.
Together with France Télévisions at the Roland-Garros Lab 2020, we demonstrated the power of Harmonic's VOS® Media Software with HEVC and CAE for live sports video workflows.

The trial's results proved that HEVC, combined with CAE, offers video streaming providers with an opportunity to enhance the live sports viewing experience and still keep bit rates exceptionally low.
During the trial, we established that the bitrate for 8K distribution was between 25 Mbps and 35 Mbps, which is about the same bit rate used for 4K streaming during the 2019 international soccer championships.
That's half of what is possible with just HEVC using classical headend -based encoders and matches the expectations that people have using VVC, the next-generation MPEG compression standard.
Industry Examples of 8K at the 2019 French Open
In 2019, Harmonic was part of the pioneering process to drive 8K over 5G for the French Open. With a goal to provide an immersive viewing experience, 100 hours of the tournament were streamed worldwide to 8K TVs and phones on 5G networks.
Using VOS Media Software, Harmonic and 18 vendors utilized 8K TV cameras, transmission equipment, servers, media processing software, 8K television sets, and 5G mobile phones to successfully prove the application of live broadcasting, catch-up TV, and VOD across TVs and mobile devices.
Quick, Efficient 8K Content Creation via Upconversion
There are several reasons broadcasters may be waiting to produce their own 8K content -- mass 8K device adoption is still a few years away; new codecs to keep the bitrate down will not be available for several years, and production equipment is expensive -- but there still may be solutions to deliver 8K to consumers in the coming years.
Industry consensus is to send 4K to an 8K TV that has upconverting capabilities. For example, Samsung has developed an artificial intelligence codec that aids in delivering 8K content to consumers. TV Technology says that this upconverting technology, called AI ScaleNet, is done by compressing the 8K content to 4K quality through an AI downscaler and transmitting it to the user's TV, which uses AI to upscale the content back to 8K quality."
This technology, along with other AI TV manufacturing technologies, provides a win for content providers who don't yet want to invest in 8K production equipment and for network operators who do not yet need to build additional infrastructure.
While the consensus around this option is positive, the downside of this approach is that the content provider can't control the quality of the 8K TV in which consumers view the content. An alternative option is to begin in 4K production and upconvert to 8K at the headend side to guarantee 8K quality is consistent across all devices. It also means that the content can be delivered using common technologies such as HEVC, or tomorrow with VVC.
Looking Towards the Future with 4K and 8K
Considering that 4K is just beginning to solidify itself as a mainstream technology, many broadcasters are logically still investing in the UHD-1 realm. As more broadcasters continue to deliver content in 4K and mainstream events like the upcoming Olympics and international soccer championships will likely bolster adoption, 8K adoption will likely remain a technology of the near future rather than one that is widely adopted today.
However, the ability to display video at 120 frames per second with 8K means that sports networks, in particular, stand to benefit most from early adoption. We estimate that after 2024 8K technology will mature enough to benefit from the arrival of new codecs, cost reduction of electronics on the consumer side, and increased availability of resources to deploy 8K. Until then, upconversion technology at the headend or TV manufacturer side is the best short-term solution.