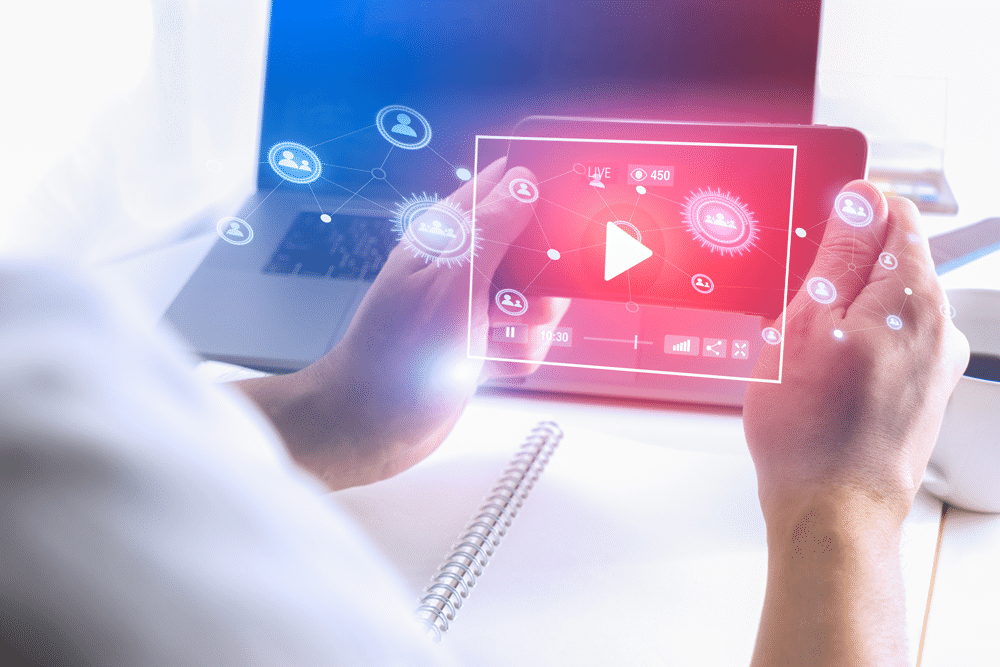 Dynamic Ad Insertion: Tips to Best Monetize Your Content
February 21, 2020 | 4-Minute Read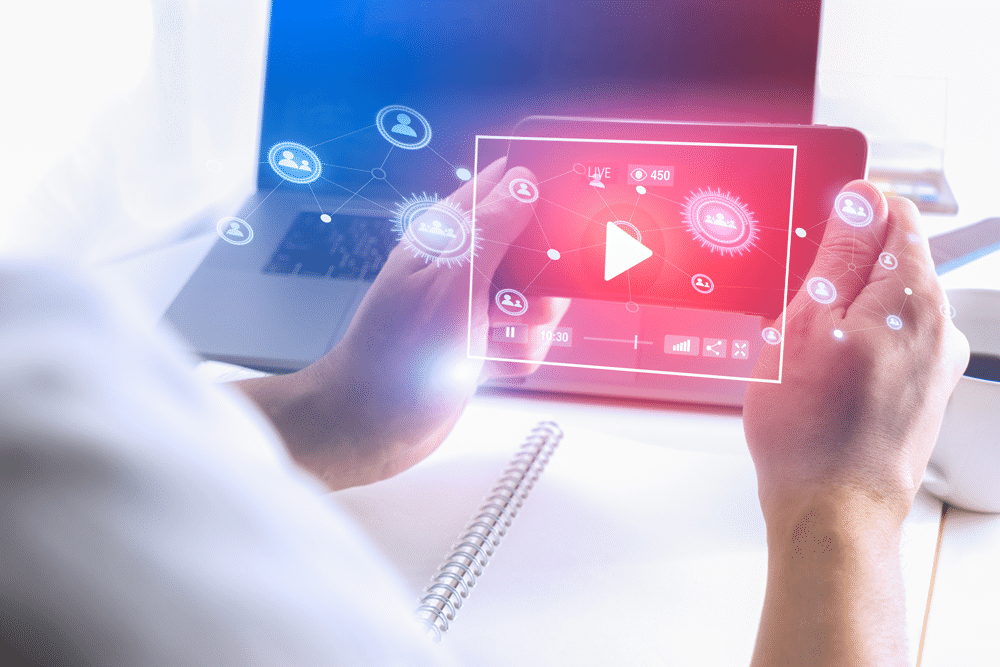 Advertising is an effective way to monetize content and is a key driver for business growth. Selling ads can generate a lot of revenue, especially for high-viewership live content, or popular VOD. Global spend on TV advertising is expected to rise from $173 billion in 2018 to $192 billion in 2022, according to recent studies. The opportunities for monetization are expected to grow accordingly.
What a DAI solution does
Dynamic ad insertion (DAI) is a technology that allows you to insert advertising into video streams. DAI is the server-side, instead of the client-side. With server-side ad insertion (SSAI) you can insert video advertising elements into live, linear programming and video on demand (VOD) content. In this workflow, an encoder transcodes and conditions the video streams based on embedded protocol information (SCTE 104/35). Cues are then inserted into the playlist at the appropriate points. Relevant ad chunks are pushed transparently over your network to the viewing device during ad breaks. But there is more to DAI than just its technical function.
DAI plays an important role in targeted advertising initiatives. Advertising can be targeted at many levels: geolocalization, socio-demographics, and behavioral profiles, but also per device, per content and per user. DAI solutions stitch your video content and targeted ads into a single stream, independent of a web page or app to produce a seamless, TV-like experience for the viewer.
DAI in the cloud enables parallel workflows that are scalable. And if you use a cloud-centric DAI solution with manifest manipulation you can create custom manifests per user, in real-time. Cloud-based DAI solutions that offer manifest manipulation capabilities normally support multiple targeting scenarios and deliver unique playlists containing hyper-targeted ads for any device, including smartphones, PCs, tablets and connected TVs. You can also stretch the use cases beyond DAI to include blackout management and video content replacement.

Dynamic ad insertion adds value
Personalization and multiscreen advertising: It seems like everyone is now offering video services, and new industry players are emerging every day. Viewers have a lot of choices when it comes to service offerings, and that makes for stiff competition.
Here's a list of just some of the players:

Broadcasters
Pay-TV providers
Telcos
Pure OTT providers
Gaming platforms
Social video networks
Rightsholders
Sport leagues
It has become essential to differentiate your service offering if you want to attract subscribers. The question remains. How? One of the real game-changers is personalized content and that includes ads. DAI solutions can help provide that custom touch.
Unblocked ads: One big advantage of an SSAI model for DAI is that it makes advertisements and content look the same as adblocking software. Your ads are sure to reach the screen, which is the first step to converting passive viewers into active buyers.
Dynamically adapt: The dynamic aspect is essential. With DAI, ads are planned for a specific time slot but can be switched instantly, dynamically, based on predefined data to best target the customer. Customer engagement tends to increase when the ad best matches a relevant theme at the right time, which also translates into higher conversion rates.
Data and analytics: The latest advances in cloud-based video processing, big data, and behavioral analytics are enabling TV providers to offer advertisers more targeted audience segments. Smarter advertising means a higher cost per mile (CPM) rates. CPM rates are what the advertiser pays per every 1,000 views of a TV ad. Analytics provide insight to create thematic TV channels, even further addressing consumer demands for personalization. Advertising that's stitched into the theme of the channel is perceived as less disruptive and can potentially gain higher CPM rates. Since DAI CPM is higher, you may consider reducing the ad load, without reducing revenue, to be more appealing than the competition.
What to look for in a DAI solution
A powerful end-to-end solution: Simplicity is key, and if your solution can streamline processes then that is a big win. Look for a complete DAI solution for live and file-based content — from playout through to OTT packaging and origin.
Efficient manifest manipulation: No nonsense, straightforward feature sets will make your life easier. Find a solution that can interface with ad decision servers to provide a targeted manifest based on user location, device, or more complex criteria.
Easy blackout management: As OTT content can be distributed to any device, anywhere, guaranteeing compliance with viewing policies is crucial. Ideally, your solution should be able to handle event scheduling and offer a notification interface service for smooth blackout management. Look for solutions that can accurately ingest substitute content and slates, while providing an updated manifest to ensure legal commitments are fulfilled.
Some best practices for DAI
Although SSAI and DAI offer a bunch of benefits, there are some requirements to know before getting started.
Ad trigger normalization: If you are ingesting live channels from many different providers, it is very likely that in-stream ad triggers will be implemented in different ways by the different providers. It is key to process these triggers as they enter the platform so they can be normalized and sometimes enriched with external data.
VAST compliance: Video Ad Serving Template (VAST) is the standard protocol that is used to interface a DAI video stitching platform with third-party ad decision servers (ADS).
Fast ad ingests: Ads need to be ingested as fast as possible by the DAI platform. When ingested, the ad is transcoded to match the live transcoding profiles. This ensures a seamless stitching operation. However, if the ad transcoding process is taking too long, it is likely that the first opportunities to insert that particular ad will be missed because the ad won't be ingested in time. It is important to encode as fast as possible to maximize every opportunity and never miss a beat.
Accurate ad reporting: Digital advertisers expect accurate reporting of ad impressions. This is also valid for DAI whether it is live, catchup or VOD. In all cases, it is necessary to count impressions of each ad and report accurately to the ad server.
DAI scalability: In an SSAI architecture, a manifest is to be calculated and served to each user to enable a different ad to each user. The CDN can't be used to distribute the manifest anymore. It is up to the DAI service to process and serves a manifest to each user. Only the elasticity of a cloud implementation will deliver the scalability that is necessary for deploying DAI.
The big picture
To avoid ongoing development and maintenance of device applications, the trend today is to rely on SSAI and DAI. These solutions enable ad replacement in the live stream while providing a seamless, less disruptive experience for the viewer. This type of video ad stitching on the server side also reduces potential threats from ad-blocking tools, as video ads appear as normal content.
DAI can be deployed with a cloud-based approach. With the cloud, your entire workflow can become simpler. Content ABR transcoding, ad transcoding, packaging, manifest generation, and manipulation all work together in an end-to-end seamless architecture to eliminate deployment headaches.
Do you have more questions about DAI solutions? Let us know and we can talk about your plans for DAI.
By Alain Pellen | November 2, 2020