The internet has permeated every aspect of our lives, contributing to the rapid proliferation of smart devices and online services. In particular, video-on-demand and live streaming has penetrated households across the globe at an unprecedented rate, offering consumers the convenience to watch what they want, when they want.
But as the problematic launch of Disney+ revealed, video streaming can also generate significant frustration for consumers who encounter performance issues, such as buffering or worse, start-up failure. In fact, nearly 80% of viewers will exit a video streaming service due to a bad viewing experience.
While brands like Disney may be able to weather early performance issues, other services that fail to put preventative measures in place to ensure quality of experience (QoE) and quality of service (QoS) ultimately risk losing their business due to high churn rates.
To deliver high-quality online viewing experiences in par with linear TV and consumer expectations, it's essential that broadcasters continuously monitor the performance of their video streams in real-time.


Importance of real-time video monitoring
When operating a video streaming service, any number of problems can arise along the streaming delivery chain, and the only way to isolate the issue is through meticulous real-time monitoring.
Monitoring allows broadcasters to pinpoint where the problem lies within the streaming chain, whether that's with the hardware encoder, internet service provider, content delivery network (CDN), or the streaming platform itself. After all, it's hard to prevent and solve a problem if we don't know it exists.

Best practices for video stream monitoring in real-time
There's no single best strategy for monitoring your video streams in real-time–but rather, a combination of practices that can be used to cover your business across all bases.
Below we'll outline some of the recommended measures to continuously monitor your VOD or live-streaming service.


Preventive infrastructure monitoring
If you're in the business of live video streaming, then you'll know that software or hardware (server or router) failures tend to strike at the worst of times–for instance, in the dying minutes of a gripping FIFA World Cup Final.
The backlash from such a detrimental event could ruin many service providers, especially given the competitive climate of the online streaming market and the capacity for consumers to publicly vent their frustrations on a global platform.
Despite these potential impacts, hardware and software failures remain an inevitable contingency for VOD and live-streaming services. Therefore, as a content producer or distributor, it should be mandatory practice to proactively monitor your on-premise system and stay informed on the potential reasons why failures occur, including:
Extreme temperatures
Exposure to moisture
Unregulated power supplies
Incompatible hardware components
Underperformed firmware upgrades
Malware or ineffective anti-virus solutions
CPU server usage
Unavailable storage capacity

It can be a challenge to monitor the performance of your hardware and software while streaming in real-time. But implementing a preventative maintenance schedule can help you keep a close eye on the state of your software and hardware and reduce the frequency and severity of disruptions.
The challenge with monitoring requires lots of different monitoring tools and logistical resources, however, which can be beyond the operational abilities of some brands. This is why a proactive streaming monitoring solution like the VOS360 Media SaaS is such a viable option for providers who understand the importance of streamlined workflows that keep your content available at all times.
Video quality monitoring
Today's consumer expects high-quality viewing experiences across all devices and will not tolerate performance issues, such as buffering, blurry images, or lag. According to a 2019 repvosort from Limelight Networks, buffering is the most frustrating performance issue faced globally by streamers. In fact, the same report found that 27% of viewers will abandon an online video after a single buffering incident, while an additional 40% will leave after the second. These poor quality viewing experiences generate negative emotions and can have a detrimental impact on brand perception amongst unforgiving consumers.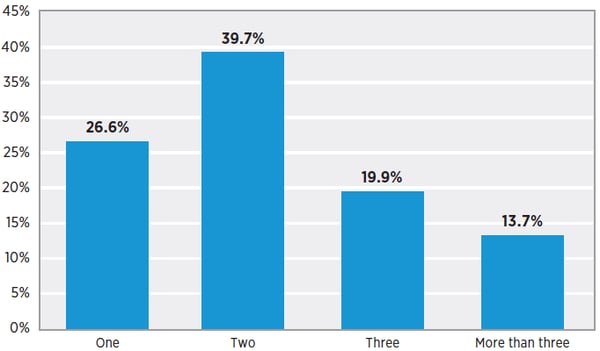 How many times will you let an online video rebuffer before you stop watching and abandon it? Source.
So, how can broadcasters consistently improve the quality of experience to viewers? One tactic is to monitor real-time video analytics.
Content delivery metrics:
The below metrics enable broadcasters to quickly identify performance issues and see a quick snapshot of the entire platform.



Start time

– How long are viewers made to wait before a video stream begins playing?

Start failures

– How often do videos never begin playing?

Bounce rate

– How often do viewers exit a video stream before the content starts?

Error rate

– How often do viewers encounter playback failures during a video stream?

Buffer rate

– How many times do viewers experience buffering during a video stream?

Rebuffer time

– What is the average total buffering time during a video streaming session?

Lag ratio

– How long do viewers wait during the entire time spent watching?
Monitoring the below metrics can help broadcasters optimize bandwidth utilization to ensure consistent video quality on each channel.
Average Video Bitrate –

What is the average number of megabytes per second (Mbps) or kilobytes per second (kbps) that viewers use to stream content?




A higher bitrate is generally associated with higher image quality. So, wouldn't it make sense for all content distributors to upload their content in the highest possible bitrate? Not exactly, as only a small percentage of viewers have sufficient bandwidth to download a video in the highest bitrate. Therefore, broadcasters can utilize video bitrate data to make informed decisions about the best bitrate for optimal video quality, whether you use constant or variable bitrate encoding.
A user's average video bitrate can be used to inform the dynamic increases and decreases in file size during variable bitrate encoding (VBR). It can also be used to optimize video resolution in accordance with the end-users internet connection. Hence, if you want to satisfy the widest possible audience, it's important to upload content that supports all types of connections.
Video resolution – What resolution (number of pixels on a given display screen) is your average user streaming in?
If a content provider broadcasts content at 1080 px to a display screen with a resolution of 720 px, the viewer's monitor will scale the image to preserve the video quality. But, since the monitor can only read 720 px, the additional pixels will be a waste of bandwidth. Pulling real-time analytics on video resolution means broadcasters can deliver the appropriate file size for each user.
Real-time user data collection
In addition to managing hardware and monitoring real-time stream analytics, broadcasters can also consider gathering data on their audience's viewing behavior to help predict trends and optimize video processing and delivery. Some metrics you may want to consider include:
Number of unique viewers per channel/video

Number of repeat viewers

Total number of viewers across all content

The geographical location of viewers

Total bandwidth used

Bandwidth per video or stream

Bandwidth per location

Diving into user data allows you to better understand a viewer's experience – enabling you to make informed decisions and adjust your strategy accordingly. For example, if you analyze geographical data and see a significant number of international users, you might want to add subtitles in that particular language to your content. You can also measure bandwidth consumption per location to ascertain the average data rate for viewers in that specific region. Make sure you also keep a close eye on total bandwidth used to ensure you don't exceed the limit set by your OTT provider.
Consistently improve the viewer's quality of experience
Combining video monitoring with Harmonic's software-based PURE Compression Engine™ and Harmonic's EyeQ™ content aware encoding technology enhances quality even more. Harmonic's real-time video solution for video compression optimization directly improves the bottom line through reduced network delivery and storage costs. It helps to reach more consumers over congested mobile networks by enabling a more consistent viewing experience with enhanced video quality and less buffering.
Start monitoring your video streams in real-time
Monitoring your video streams in real-time is essential to delivering a high-quality viewing experience for all users. Harmonic offers end-to-end solutions for video quality optimization.
We can also provide world-class monitoring and management services for your streaming service with the highest possible availability. If you're looking for a smarter video streaming solution, get in contact with us today.