Live streaming is seeing great success and high viewership thanks to reliable cloud and hybrid video delivery technologies. The live streaming market is on a fast-paced, upwards growth trajectory.
With live streaming on a steady growth track, the video industry is set for the next stage of development. New advancements are being driven by consumer demand for high-quality, immersive video experiences. Advancements are also being propelled by service providers as they look to monetize their video content and make live streaming experiences more appealing to viewers.
New trends in live streaming, including watch together, multiview and live streaming via social media platforms, are redefining the user experience. Both established and new streaming entrants stand to benefit from these trends and enhance their live streaming service, drive viewer engagement and better monetize their content.
Watch Together Is Igniting Engagement
The heavy use of social media networks is sparking changes in the live video streaming space. Watch together is a unique streaming service that allows you to watch videos with friends and family, see their reactions and comment in real-time, no matter where you are in the world. During the COVID-19 global health crisis, watch together helped connect people at a time when they couldn't physically be together due to social distancing mandates.


A study by The Diffusion Group found that one in seven adult subscription video-on-demand (SVOD) users co-watched a TV show or movie with friends or family via an online watch party during the pandemic. Watch together services are delivered by SVOD and OTT live service providers. The figure below shows examples of watch together deployments.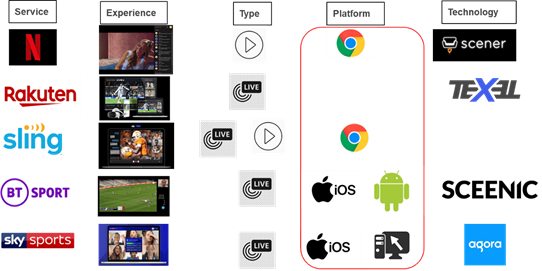 With its appeal of immediacy and connectivity, watch together has immense potential, particularly in the live sports streaming environment. However, currently, only a handful of services support it. In the future, we can expect to see more watch together services for live streaming content, especially for premium events that draw a significant viewership.


The main challenge of delivering watch together services is that live streams need to be delivered synchronously to all connected users. A minimum delay of 5 seconds for content delivery is recommended, or there will be a disconnect between users. There are two ways to implement watch together. The first option is to synchronize all of the watch party clients by controlling each client playback. The second approach is to use CMAF low-latency properties to synchronize all of the clients.
Harmonic is working with various watch together partners and recently announced integration with the TEXEL Engagement Cloud™ solution. The main advantages of this solution are that it works on any client and it offers a very tight synchronization between clients.
Harmonic, with its support for CMAF low latency for both DASH and HLS, has demonstrated sub-second latency for any client. This development offers two major benefits. Applying CMAF low latency ensures tight synchronization between all clients, enabling users to communicate by text and share with their friends. This approach avoids the "text spoiler" effect that is commonly an issue when watching live sports streaming services. Second, since this is a server-based scheme, there is no porting effort on the client.

Multiview Puts Control in the Hands of Viewers
Another way streaming service providers can stand out in today's crowded marketplace and offer an immersive experience is by delivering multiview services. Multiview, or multicamera live streaming, is where service providers shoot multiple camera angles of a scene and then enable viewers to choose the angle that they want to watch.
When you have access to multiple streams and different angles of a live event, it makes the live streaming experience much more engaging and authentic. Sporting events and live TV shows are the key use cases that are being explored for multicamera live streaming, and the results are positive.


There are multiple ways to implement multiview:
Compose the client screen in the cloud and deliver it as one single stream. This approach minimizes the workload on the client and maximizes the reach.
Make a mosaic of all the views transmitted as a UHD stream to the client that will extract the selected view. With this approach, all of the views are synchronized, enabling a seamless transition between all the views.
Stream each view individually by the client to ensure a seamless switch when transitioning to another view. This client-based approach makes reduces equipment on the headend side.


The Harmonic VOS®360 media offers the flexibility to support all three options:
Texel and Harmonic have jointly deployed the first implementation option using the VOS360 media.
France Televisions has experimented with multiview. They used an app developed by VisulaOn at the French Tennis Open in 2020 to give viewers control over the camera angle, in real-time, using the second implementation option.
Based on the third implementation option described above, Now TV, one of Hong Kong's premier telecommunications service providers, successfully streamed the finale of a popular reality TV show with multiple camera angles. They leveraged Harmonic's cloud-based VOS360 Media SaaS to ensure low latency and high reliability for viewers during the live event.
Cloud-based live streaming platforms will play an important role in facilitating multiview services, allowing service providers to resolve potential scalability, latency and quality issues so that the quality of experience is extraordinary.


Social Media Platforms: A Springboard for Additional Live Content
Not long ago, if you wanted to watch a live sports event, your options were limited to pay-TV subscription services. But live sports and other events are now readily available on streaming and social media platforms. A recent Future of TV survey by the Trade Desk revealed that 39% of viewers are now watching live sports content on connected TVs via ad-supported streaming and social media platforms.
Service providers started streaming live sports events on social media in response to the overall global rise in social media consumption and also to boost engagement. eMarketer found that in 2020:
North Americans used social media for around 2

hours and 6 minutes daily.
People in Europe spent an average of 1 hour and 53 minutes on social media.
South Americans spend 3 hours and 29 minutes a day on social media platforms.


The next evolution for live sports streaming on social media will involve centering content around the main event, rather than just streaming the live event itself. Fans are looking for additional content, such as related videos, stats and chat capabilities to enhance the overall live sports streaming experience.
Immersive Experiences Are the Future of Live Streaming
Let's face it: The streaming market is crowded. Therefore, it's more important now than ever for service providers to offer a unique service that keeps subscribers engaged. By embracing the latest trends in live video delivery — including watch together, multiview and social media streaming — you can distinguish your service from the competition, reduce churn, keep viewers consistently engaged and drive monetization.
With decades of video delivery and streaming experience, Harmonic can help you start delivering the streaming services discussed throughout this blog post. Our cloud-based, end-to-end VOS360 media simplifies live streaming from source to screen, allowing service providers to deploy new services fast and in a way that is scalable without sacrificing QoE.
To learn more about how our VOS360 media SaaS supports these exciting new offerings, let's talk.